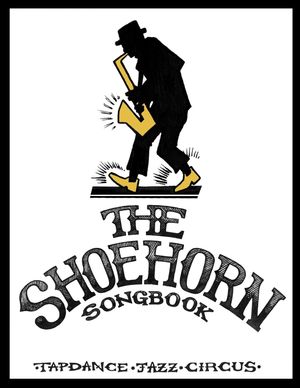 SUMMER 2023
August is closing with a series of gigs with the Jellyroll Society, the Norman Sylvester  Band, and Shoehorn's solo show. See the updated calendar page for specifics.
There are many videos to watch on social media platforms, including some zany antics with the clarinet and water and unusual percussion performances. Check miconshoehorn on instagram, mcshoehorn on TikTok, and MC Shoehorn on youtube. As always, you can support my work via the paypal button on this page.  I also accept venmo and cash app donations. I need $40,000 to settle some debts.....
Shoehorn's Hatband had a terrific set at The Cathedral Park Jazz Festival, with Elizabeth Abel  tap dancing, George Mitchell on piano, Martin Zarzar on drum set and Kevin Dietz on upright bass, playing Shoehorn's original music.
Shoehorn also played a few dates with the Norman Sylvester Band, in Mosier, Oregon, Bridgeport Village, and also Marquis Care Home, where Norman leads an annual afternoon gig for an appreciative crowd of seniors and their families.
The Science Circus had a good run of shows in Arcata and Shoehorn was featured at the Old Town School of Folk Music in Chicago with Reggio the Hoofer. Summer is off to a good start with shows coming up with Norman Sylvester, Smut City Jellyroll Society, and Shoehorn's Hatband.
SPRING 2023
Shoehorn sang his song about an encounter with wildlife at the Moisture Festival in Seattle on April 9. "A Beaver Sings" is based on actual events and has a catchy singalong chorus. Here is a link to the video on the youtube channel, which we encourage you to like and follow, and check out all the other content, from live shows to studio sessions and clips filmed at home and out in nature!
Check the calendar page for updates about other shows coming up, including some dates with Leapin' Louie and Rhys Thomas; Smut City Jellyroll Society; and a featured spot on Reggio the Hoofer's  Tap Day Celebration at the Old Town School of Folk Music in Chicago May 28.
Winter:
Shoehorn is featured on a cooking podcast! Marti's Music Kitchen
https://www.oregonmusicnews.com/shoehorn-martis-music-kitchen-2022
 In addition to local gigs during the holiday season you can catch Shoehorn with The Norman Sylvester Band at Skamania Lodge on New Year's Eve!
Shoehorn began his musical journey over 40 years ago as a street performer in New Orleans, where he got his first pair of tap shoes. He went on to perform in 30 countries and most of the states, and has released 6 full-length CDs featuring his original tunes. He plays a lot of instruments but is best known for simultaneously playing sax and tap dancing. Shoehorn knows the history of Tap, Jazz, and Vaudeville, and carries that tradition forward in his original style.
Fall Update:  Autumn is here and we here at shoehornmusic.com  are gradually  filling in the calendar for the season and the coming holidays. Reach out if you need a solo show, a guest performer, or a band to make your event unforgettable!
Summer is almost over. Sadly, Shoehorn was out with covid for the Cathedral Park show, but was soon back in action with other gigs, solo shows, and events with Smut City Jellyroll Society and Norman Sylvester. And 2-3 thousand people sang along with his new novelty song, A Beaver Sings, at the Midnight Show at Oregon Country Fair. (a song based on actual events!) Use the contact form to book Shoehorn or these other groups for your events, private and public! Check out the youtube channel and instagram and tiktok accounts listed below for various postings of new content. Donations are always appreciated, as these online accounts are not generating income otherwise....
Thanks!
 Check the youtube channel,https://www.youtube.com/channel/UCYUlUSsdW98nNHvz6cO-mhA  and miconshoehorn  on instagram and @mcshoehorn on  tiktok  for recent uploads! I am doing a series I call "Hidden Voices" where I overdub various instruments to a videos I record at home.
  I am also still doing socially distanced outdoor gigs, so hit me up if you want me to create some ambient sounds or do a show!
Also, Shoehorn has been doing some reels on instagram (miconshoehorn) and  joined TikTok as MCShoehorn. Check it out!